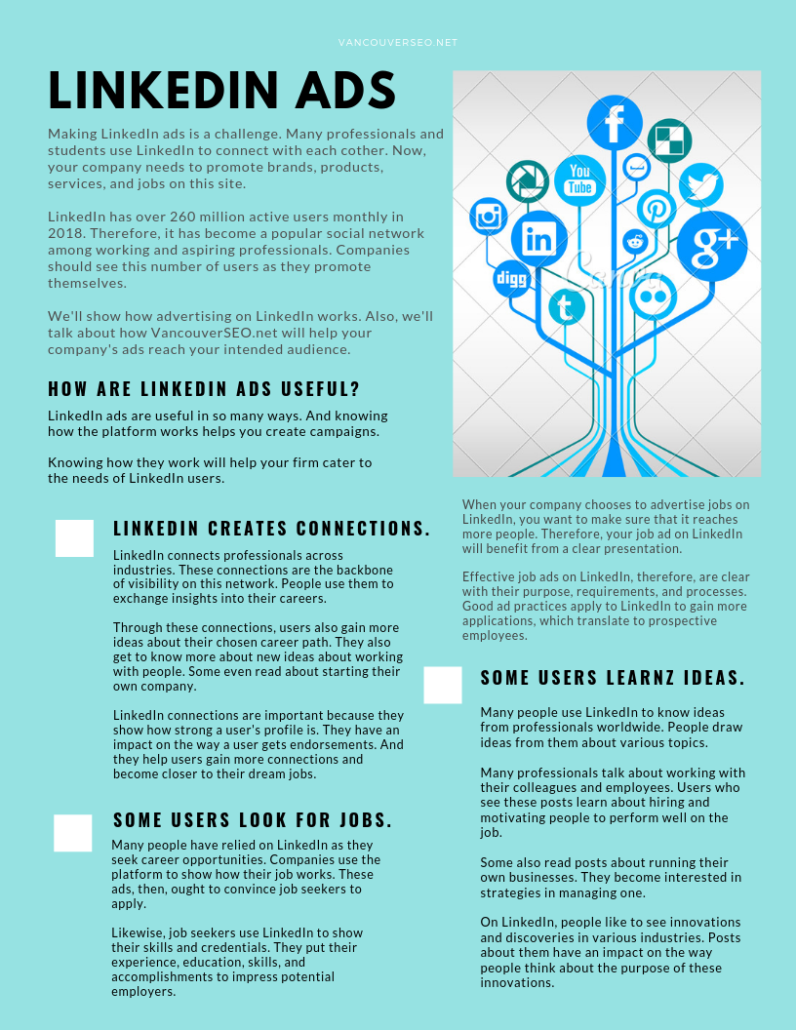 Why should you make ads on LinkedIn?
Your company needs to place ads on LinkedIn. Placing ads on LinkedIn helps every professional see your company and know about it.
LinkedIn ads also help people know about your company's products. Also, through these ads, people know more about its services. This way, ads help convince more people into choosing them.
When a company fails to use LinkedIn, it might not reach its audience. Professionals wouldn't know what your company does. They wouldn't also see what it plans to achieve.
Your company might also have a hard time engaging with professionals. Because they couldn't feel its presence, it might have less of an impact on them.
Companies that don't use LinkedIn effectively might have less prospective employees coming to work with them. Because online job searches have become common, companies without LinkedIn presence might become hard to find.
Let VancouverSEO.net help you make engaging LinkedIn ads.
Managing a LinkedIn campaign takes time. As people juggle tasks in the workplace, your company might have a hard time handling it.
In VancouverSEO.net, we handle LinkedIn ads. We make sure that people in the professional world see and hear from you.
Our ads target professionals.
As we focus on targeted content, we make sure that our campaign fits how people use social media sites.
In VancouverSEO.net, we create content that caters to a professional audience. We make sure that people will pay attention to our ads.
Our LinkedIn ads focus on engaging professionals in your field. Therefore, we capture their interests by drawing from their experiences and adapting them.
We also schedule content releases. We make sure that we time content releases based on your needs. It's because scheduling is important for people to see content that they need at a given time.
Our LinkedIn ads come in many forms.
LinkedIn ads can come in many forms. It uses text, images, videos, and interactive platforms like slideshows and carousels. Whatever form you prefer, we will take care of them.
VancouverSEO.net treats LinkedIn as a social network. Therefore, we carry what we do on Facebook, Twitter, and Instagram ads to LinkedIn.
Thus, we make sure that your campaign takes advantage of media use. This way, your campaign will stand out.
SEO works on LinkedIn, too.
LinkedIn profiles and ads also need search engine optimization (SEO).
Here in VancouverSEO.net, we use SEO practices to make sure that many people will see your company. This works whether they are on LinkedIn or not.
We do keyword research in showing what jobs or companies people look for at a given time. This way, we can use keywords that are tailored for your target audience.
From keyword research, we form ideas for our campaigns. From the words that we use until the images and videos, we've got them.
We also include media as we make your LinkedIn campaign SEO-friendly. This way, more people will easily see your firm's campaign.
Your audience's responses also matter.
Interaction drives our ad campaigns. And this point applies to LinkedIn, too.
The way your audience responds to our campaigns matter. We take note of their reactions and comments in strengthening our campaigns.
We make sure that our campaigns respond to feedback from LinkedIn users. From their points, we evaluate ideas and improve them. This way, your ads will engage more people.
Work with VancouverSEO.net, and we'll take care of everything LinkedIn-related. We'll make your company's campaign reach professionals as your target.